CloudNine Cushion
BUY 1 GET 2ND 30% OFF. CODE: YP30
BUY 2 GET 3RD 55% OFF. CODE: YP55
BUY 4 GET 5TH 100% OFF. CODE:YPFREE

Combat Poor Posture and Dreadful Back Aches From Sitting All Day!
Sitting for long periods puts enormous pressure on our lower back & spine. Say goodbye to aches and discover ultimate sitting comfort with the CloudNine Cushion.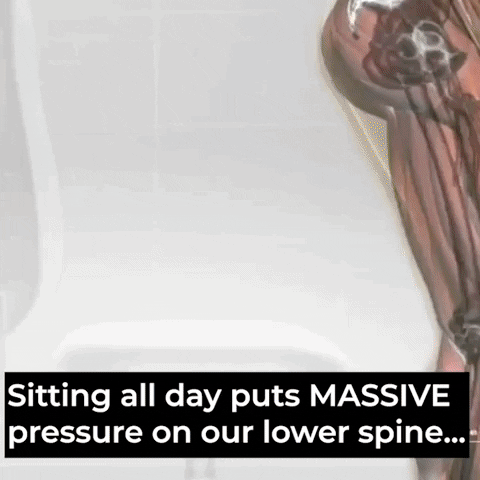 Your Spine Will Thank You!
a??IMPROVE BLOOD FLOW:??Conforms to your body shape and reduces pressure on critical areas, significantly improving blood flow to the legs and feet.
a??CORRECT POSTURE:??Provides optimal support to your lower back and spine, promoting healthy posture and preventing aches.??
a??ERGONOMIC DESIGN:??Honeycomb design keeps the cushion cool without compromising comfort. No more seat sweat!
a??GREAT FOR OFFICE:??DRIVING-Perfect??for home, office, & vehicle use. Each cushion includes a black protective cover.??Fits??nearly all chair pads (16.0" X 13.5").
a??PREMIUM QUALITY:??Made with medical-grade gel to retain the original shape and??to offer maximum??comfort.
Why Do I Need This?
Poor posture can be detrimental to health! If you are in front of a screen all day at work, chances are you suffer from slouching and poor posture. Athletes often suffer the most from this due to muscle imbalances, witch can lead to serious injuries.
Whether you are male or female, athlete or gamer, our CloudNine Cushion is a must have! CloudNine Cushion fits comfortably in any vehicle or office and keeps your spine aligned.
If you suffer from back pain in any way, the CloudNine Cushion can help relieve it and keep pain away. Anytime you are in the office or commuting to work the cloud cushion has your back!
JILLBURY??30 DAY HAPPINESS GUARANTEE
100% satisfaction guaranteed. Thata??s our promise. So, if you're not completely happy with your purchase within the first 30 days of receiving it, just let us know. Wea??ll do whatever it takes to make it right.??
Worldwide Shipping
We can ship to virtually any address in the world. Note that there are restrictions on some products, and some products cannot be shipped to international destinations.
Shipping to USA, Australia, New Zealand:
Standard Shipping: 15-25 business days. 1PCS US$5.00, 2PCS US$8.00, 3PCS or more US$11.00.
Shipping to Canada:
Standard Shipping: 15-25 business days. 1PCS US$10.00, 2PCS US$18.00, 3PCS or more US$24.00.
Shipping to Europe:
$5 on Standard Shipping.
Shipping to Rest of the World:
$7 on Standard Shipping. Shipping time varies from different countries.
50 Days Easy Returns
If you need to return items, please contact customer service at info@kakimoda.com. You may return most new, unopened items within 50 days of delivery and get your refund.
Please tell our customer service the issue in detail, including the return reason, along with your order number. For defective, incorrect or not as described item, please send us a clear picture or video of the issue. We will allow a return to our warehouse for a refund or an exchange if our company is responsible for the issue. We'll notify you via email of your refund once we receive and process the returned item.
Refunds
Usually it takes time for us to receive your return(days varies according to your shipping method), and time for us to process after receive your return (3 to 5 business days).
Paypal account refunds: Usually immediately.
Credit card refunds: Between 5-10 business days